"Burger Legs Joe Releases Single 'I Feel Love'"
We love this song. I know we always say that, but we only choose songs we love, and hopefully pay homage to them.
Originally released in 1977, performed by Donna Summer, and co-written with Giorgio Moroder and Pete Bellotte, for me this track was the birth of modern trance music.
I wanted to restomod 'I Feel Love' because it's such a great dance track. But we weren't sure if it would work, sung by a man, an octave below Donna Summers' outstanding voice that we all know and love.
We did a test record and immediately knew we could bring something fresh to it, so I arranged it out from there. The whole song hangs on that repeating synth line, so all the other parts had to harmonise around that. We're very happy with the result.
Russ T Rokk has again contributed his considerable talents to produce a mix that really slaps, and another Lo-fi, arty music video is in the pipeline.
We hope you enjoy listening, watching, and disco dancing to Burger Legs Joe featuring Andi's take on 'I Feel Love'.
The Bizarre World of Burger Legs Joe
In a world where people strive for a deep, meaningful, multidimensional existence, Burger Legs Joe stands for none of that. As shallow as his 2D appearance, staggering through life on legs of burger, too witless to realise how witless he is.
 The only child of Beefy Thighs Bill, and Betty Baguettes, they abandon their burger legged offspring at an early age outside a 'specialist facility', because "He just would not shut up!" Alas, thickness is a family trait, and after several weeks living in his pram in a McDonald's car park, he became the poster boy of low res' graphics, that for some reason, just won't delete from your trash.
Adopted by the rich and famous, he studied music at a prestigious university, financed by his fancy benefactors. There he discovered his aptitude for breaking musical instruments, accidentally causing personal injury, and the spontaneous destruction of property. The University, low on playable instruments and high on medical pay outs, insisted Joe only use virtual instruments and graduated him early.
The avatar of an unidentified Music Producer, Burger Legs Joe is on a mission to restomod (restore and modernise) outstanding retro songs for your grooving pleasure.  Treasuring the essence of what makes each track so fabulous, they are re-energized to a modern perspective; weaving rhythms and melodies in BLJ's distinctive ear grabbing style, that lingers in your head, and puts beats in your feet.
Mesmerised by the voice of friend and vocalist Andi Bracken; together they have set out on a journey to blow the dust off some of the great songs of the past.
 From bangers to ballads, and anything in between, Burger Legs Joe featuring Andi's first restomod collection is The Love and Happiness Set Part 1, a quantum leap into reimagined retro joy. "We want to uplift our audience, so we naturally gravitate towards songs we love, that do that for us."
Stream/download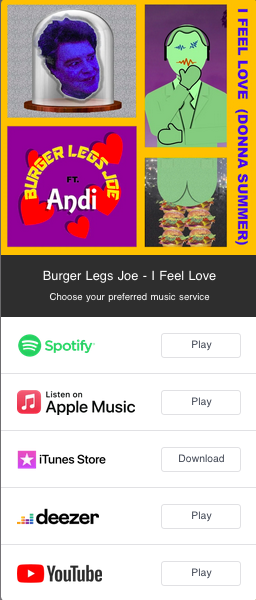 Connect