"Adam Jones – Fool In The House"
Australian blues, folk-rock and alt-country singer/songwriter/musician Adam Jones' new single Fool In The House is released 11 September 2020. Adding 'hip-hop' to the acoustic blues that features on his first 3 studio albums, this socio-political song in support of racial equality, features a rap written and performed by 22 year old South African artist Sabelo Cyprian.
After seeing on the TV news the rise of the Black Lives Matter movement in response to the murder of African-American George Floyd, and some subsequent actions by the US President, Adam wrote this song on the 1st of June during the 'pandemic lockdown' in Melbourne, Victoria. Coincidentally, just after the decision had been made to record the song, Sabelo made contact with Adam after seeing his profile on social media and enjoying his music, and a rap was written and added to the song, with Sabelo going in to a recording studio in Durban, South Africa, to track his vocals.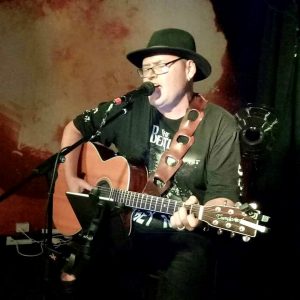 Fool In The House was recorded at Echidna Studio in Christmas Hills, up the Yarra valley from Melbourne, by studio owner, engineer and talented musician Greg Macmillan, who performs bass guitar, electric lead guitar and congas, along with programming the drums and percussion and mixing the song.  Fool In The House was then mastered by Andrew Beck at Damien Gerard Sound Studios, Sydney Australia.
"He's the fool in the house on high while we fight on the street and die!", implores Adam, before Sabelo raps about his experiences of racism growing up in South Africa. Adam concludes that "the righteous will no longer hide" and "we must give this world a better turn".