"Joel Leffler – Auburn Hair"
The Catchy new single from Joel Leffler has earnt him the feature artist spot on Soundslikecafe.
Following on from his successful Run With The Wolves release earlier this year
Joel Leffler drops new single Auburn Hair and heads out for some live shows including the launch  in Orange on September 30 to coincide with the Guinness World Record attempt for most Red Heads in one place.
The song Auburn Hair was born into this world as a love song dedication to Joel's red headed fiancée, Heather.
Heather was born in Scotland, a country that claims its' fair share of red heads, however Joel has always felt that in Australia auburn haired people have copped more than their quota of derogative comments throughout the years.
This song stands as a call to arms for red headed people & their admirers to come together in celebration of Australia's and the World's most colourful characters.
The new EP produced by ARIA nominated producer Pete Holz has taken a turn in direction from Joel's first EP 'Run With The Wolves' which not only saw International radio airplay in USA & UK but made it to the ears of radio listeners all over Australia.
shows include 3 nights opening for Casey Donovan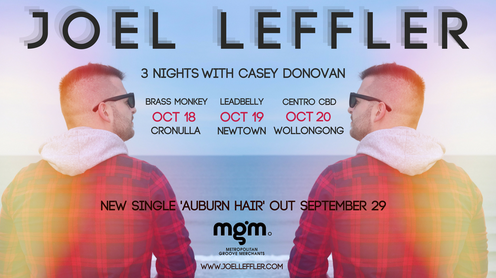 Tour Dates
September 30 – Auburn Hair – Single Launch – Wade Park, Orange NSW
October 18 – Special Guest for Casey Donovan – Brass Monkey, Cronulla NSW
October 19 – Special Guest for Casey Donovan – Leadbelly, Newtown NSW
October 20 – Special Guest for Casey Donovan – Centro CBD, Wollongong NSW
October 28 – Joel Leffler Headline – Rocksalt Tapas & Winebar, Menai NSW
See what else Joel is up to!
joelleffler.com 
facebook.com/thejoelleffler
instagram.com/thejoelleffler
twitter.com/thejoelleffler