"Halfway Homebuoy – Intermittent"
Central Coast-based Halfway Homebuoy have just released their new album Intermittent – and within days, their video of Burning In The Sun has already had almost 40,000 streams on Facebook!
Watch the video here: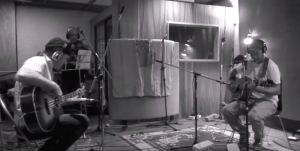 Intermittent is a collection of some previously-released favourite songs, performed live in the studio acoustically.
Halfway Homebuoy began as  3 Englishmen, 1 Swiss and 1 Australian and was formed in Verbier, Switzerland several years ago. After playing various bars during the ski season, they entered the UK's biggest band comp, 'Live and Unsigned' and ended up in the top 100 out of 10 000.
The Current lineup is all Aussies bar founding member Jack Davidson
The band have a reputation as outstanding entertainers, performing songs that make you want to stamp your feet, with vocals and lyrics torn straight from the soul.
Halfway Homebuoy – Intermittent is out now on Foghorn through MGM.
Listen now:



Connect with Halfway Homebuoy: