"Tailor Birds – WHERE WILL WE GO TO BREAK FREE FROM THE CROWS"
To be released Friday October 5 Soundslikecafe is proud to feature this excellent new album from Tailor Birds
WHERE WILL WE GO TO BREAK FREE FROM THE CROWS
Australian Release October 5
and tour dates to follow
Sophie Kinston is Tailor Birds.
Tailor Birds newest album is music that soothes the soul, warms the spirit, and ignites your passion.
Even though the content is 6 songs they are each a 7-10 minute 'Piece' forming an album length body of work. Following the success of the previous work 'Stilts on the Water' (a single 40 minute piece) this release explores further electro/folk/world territory with more instrumentation such as Piano and Flute added to the already lush soundscape. Recorded in various studios throughout Europe while on tour and mixed and mastered  at Damien Gerard Studios Sydney the sonic quality is exceptional.
In Sophie's own words"Tailor Birds combines electronic violin, live looping, foley art, percussion, and rich harmonised vocals, to create a sound like no other. A sound that is all about the vibe and positive energy, building an audience that is as diverse as much as it is one, you could say that Sophie is a traveling troubadour. She believes that music should not just be about playing one gig after another with just the music making an impact, but is also o about connecting people to something good again, in a world that is constantly changing. Music needs to inspire and placing Tailor Birds in a space that can do just that, it makes an impact greater than you could ever imagine."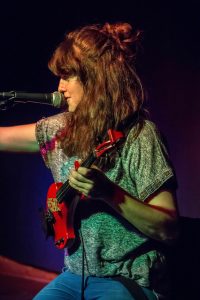 Checkout Sophie's Toyota Hi Ace Rebuild to a touring home and stage now at 775 000 views
Tailor Birds is currently touring through Australia and Europe 
"Faint echoes of Kate Bush here, Enya there  but really like neither and often much spookier"
–Michael Smith – Rhythms Magazine
Tailor Birds' key influences are Sigur Ros, the Kronos Quartet, Bear's Den, Chet Faker and more. 
-=Sophie Kinston
Connect with Tailor Birds
Website
http://www.tailorbirdsmusic.com/
Facebook
www.facebook.com/tailorbirdsmusic
Twitter
twitter.com/tailor_birds
Hear The Album