"Daxton – 'Live In The Studio' Acoustic Album Release"
Central Coast musician and singer-songwriter Daxton has recorded a bunch of live acoustic songs which will be released on his 'Live In The Studio' album, which was recorded by Russell Pilling at Damien Gerard Studios in Sydney.  Daxton's chilled out dreamy songs and moody, driving vocals make for a brilliant acoustic album which oozes a summery vibe.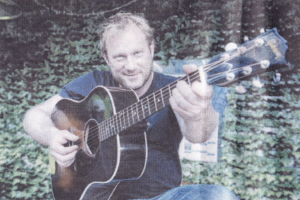 'Sanctuary' is a great acoustic rendition of one of his most popular songs from the recent 'In Verses' album. Hearing it as simply vocal and guitar really shows the quality of the song.
Another album highlight is 'Perfect Day', a more country up-tempo and happy song featuring vocals and acoustic guitar, but still managing a strong catchy chorus, snappy verses, and even some "da da da's' to sing along to. Perhaps, best of all, its less than 2 minutes, which means it's perfect to squeeze into playlist spots.
For some really nice bluesy slide acoustic and a catchy riff, go no further than 'Ball and Chain'. It combines a great falsetto verse with a baritone chorus, adding to the rich tonal feel of the song.
With songs like 'I Don't Mind', singing in high falsetto with jangly guitar line to the bubbly low tones of 'Good Time Friends' with its' grungy sounding chords, 'Live In The Studio' covers all flavours.
Daxton's music has been influenced by Captain Beefheart, The Dead Kennedys, The Church, David Bowie, Tom Waits, Neil Young, The Killers, Mud Honey, The Pixies and Arcade Fire.
Hear the music:


Connect with Daxton: