"BLJ Releases New Single 'Three Little Birds'"
Following their 2 previous 'covers' (the Cure's Just Like Heaven and Donna Summer's I Feel Love) the BLJ production team now unleash this classic Bob Marley tune on the world.The song was debut'd on Alive 90.5 earlier this week along with a chat where some of the below was revealed for the first time.
The third release from The Love and Happiness Set Part 1, Three Little Birds is a restomod of a song written by Bob Marley and originally released as a single in 1980. The song has a beautifully reassuring spirit, and it is song that if you play it a few times, it can change your mood.
BLJ hadn't done a reggae track before, as he works mostly with samples (expect for Andi…but his head is in a bell jar!). The main concern was that it might sound a bit 'mechanical'. But, that fabulous 'Wailer's Groove' kicks in to control the tempo throughout BLJ's arrangement.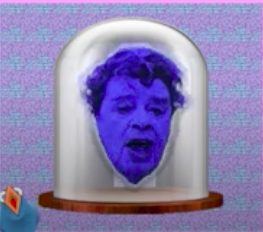 Of course, a song needs a great vocal, and Andi once again delivers that in spades. So sweet. Just lovely. And this was the first time Christine, Cate and Christiana, or the 3Cs, got together to do some very nice backing vocals, right in the spirit of the song.
Rusty T Rokk brought it all together in the final mix. The brief was "sweet, but with slam", and as always he delivered. His mix highlights that classic reggae sound, surrounds the vocals with a sweet feel, but then there's this totally slamming bass and drums that drives the whole thing along.
'I love Three Little Birds, it's such a great song on so many levels. And I'm thrilled with the way our version has turned out. I'm lucky to work with such talented people. I hope it gets your body moving and brings you joy.' BLJ
Starting with just bass and vocals this Bob Marley tribute kicks off into a percussion and reggae extravaganza with steel drums, keys, guitars and strings.  Andi's sweet voice and female backing vocals bring it home. The same good vibes from the original are here, some nice ear candy.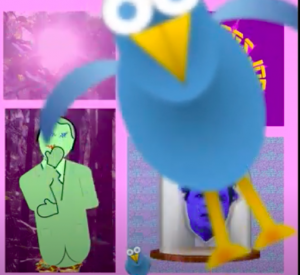 ABOUT BURGER LEGS JOE
The avatar of an unidentified Music Producer, Burger Legs Joe is on a mission to restomod (restore and modernise) outstanding retro songs for your grooving pleasure. Treasuring the essence of what makes each track so fabulous, they are re-energized to a modern perspective; weaving rhythms and melodies in BLJ's distinctive ear grabbing style, that lingers in your head, and puts beats in your feet.
Mesmerised by the voice of friend and vocalist Andi Bracken; together they have set out on a journey to blow the dust off some of the great songs of the past.
Burger Legs Joe says – "The way Andi 'owns' the song is amazing. You just instantly accept the new version. Fond memories of the original seem to disappear in that moment. The inspiration of Andi's vocals on a song I love makes it so much easier for me. The arrangements just seem to regenerate around them, naturally building to a butt kicking finale that elevates the song and Andi's voice."
From bangers to ballads, and anything in between, Burger Legs Joe featuring Andi's first restomod collection is The Love and Happiness Set Part 1, a quantum leap into reimagined retro joy. "We want to uplift our audience, so we naturally gravitate towards songs we love, that do that for us."
 And so from The Love and Happiness Set Part 1, we present our third release, Three Little Birds, adapted from Bob Marley and the Wailers. We hope you enjoy.
BLJ -(Burger Legs Joe) – Three Little Birds (Fog/MGM) Out Now
Click below to Watch and Chill to the Video on Youtube
Stream/Download from your Preferred Platform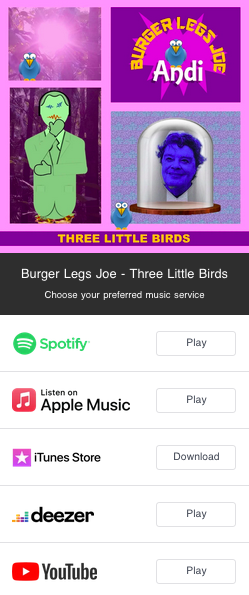 Connect with BLJ