"Featured Artist Interview – Peter Sterling"
We scored a QnA interview with this fascinating artist from the USA who spent time in Byron Bay busking and selling cassettes when first starting out
Tell us about the moment you decided to become an artist. What did your family/friends have to say about it?
"I discovered my music while living in the outback canyons of sedona in the early 90's. I lived in my VW van for 3 years and spent much time meditating in the silence of this ancient land scape. I heard the music in the silence and then I sensed angels around me who eventually made themselves known. They told me my life purpose and mission was to play the harp and bring thru special music for thistle of the dawning of the golden age. At first no one could believe my incredible story. My family thought I had gone off the deep end.I was in my early 30's and music had not been a large part of my life up to that moment. But eventually everyone realized I was very serious about this. I got a small harp and made my first recording Harp Magic only 10 months later with no formal lessons. Harp Magic went on to be nominated for String Album of the year in the NAIRD Indie awards.
2. What is the first record you bought and why? 
I can't remember the first record I bought it was sooo long ago. My record buying started in high school.I listened to Genesis, Yes, Steve Hillage, and George Benson!! I had a super nice vinyl record collection with all albums protected by plastic sleeves!!
3.Tell us a little about what a crowd can expect at a live show?
My performances are called A Evening of Harp Magic with Peter Sterling. I create a magical atmosphere with atmospheric sounds. Long reverbs and delays. I use colored light s and lasers to create a mood that is dreamy and fantasy .
4 Who are your early influences and Favourite artists of all time ?
Andreas Vollenwieder, Hillary Stagg and Loreena McKennit
Beatles, Genesis. Yes, Grateful Dead.
5.Tell us a little about your writing process, how does a song come along?
All my music is born thru improvisation. Every time I sit at the harp it takes me on a journey of discovery. My award winning 2021 album Sanctuary of Light was a complete improv from start to finish. I sit at the harp, press record and began to play the music for the first time
6.What are your future plans for 2022/2023.
Releasing my new album  Visions and Dreams spring 2022. Coming soon 🙂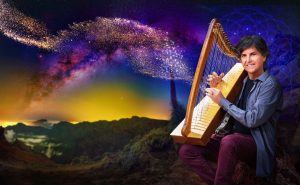 When he is asked, "What is the best part of being a musician?" Peter answers, "Creating music that touches the heart and soul of listeners… bringing peace and healing to people all over the world. I love receiving letters about how my music has touched peoples' lives." Peter looks back at his path to the present now and humbled at his worldwide success. Back when he was recording his first 8-track compositions on a cassette tape in Byron Bay, Australia, and then marketing it by going door-to-door to Sedona's stores, he could scarcely imagine that one day his music would reach people across the planet through international airplay (Pandora, SiriusXM, Soundscapes) as well as on major airlines (United and American).
Checkout Peter's latest Release The Winding Way
Composed & produced by Peter Sterling for Harp Magic Music (BMI)
Peter Plays a custom made Lyon and Healy electric Troubador, keyboards, vocals, percussion, freenote chimes, G-Dov Gertzweig/violin, Richard Hardy silver and bamboo flutes, Hans Christian Cello
Mastered by Eric Boulanger, The Bakery Sony studios Culver City
"I worked on this record for over one year during the time of the global pandemic and lock down. Tucked away from the world in my home studio, these songs came forth from my heart and soul during this difficult time for all of us. As in music so in life says the back cover. I have found as many others have that our life is not a trek from point A to point B, but rather a meandering journey down the Winding Way with many unexpected twists and turns along the path to the destination of our hopes and dreams. My wish is that this music will uplift and bring joy to your heart and soul as you journey forth." PETER STERLING
The Winding Way is OUT NOW (Harp Magic Music)
Spotify album link:
Connect with Peter Sterling: