"Foghorn Christmas Releases"
Get Into The Christmas Spirit With Gareth Koch's Instrumental Album & Daxton's Homegrown Blues/Jazz Album
'Exquisite & ancient music reimagined with a shimmer of jangle. An audiophile recording.'
Imagine timeless European Christmas music played instrumentally, as if upon a choir of lutes. Ancient & exquisite songs, deep within the human psyche, are now newly arranged by ARIA Award winning guitarist Gareth Koch. The interpretations reveal his signature blend of contemporary flair laced with medieval sensibilities.
The arrangements are both elegant & appealing, sidestepping any notion of commercialised Christmas clichés. Re-imagined as troubadour-like ballads or tender Austrian folk songs, each carol receives a unique treatment. The listener is invited into an array of soundworlds, ranging from the early medieval to English folk-revival.
The music of this album leads us away from the bustle of many modern realities. Instead, we are drawn into a gentler universe, filled with subtlety & nuance. In any year, at any time, this album presents a Christmas message we all need to hear.
Song Descriptions
Little Drummer Boy
This timeless mid-tempo classic Christmas carol is dealt with not just using multiple classical guitar parts but with hand percussion and rice shakers.
God Rest Ye Merry Gentlemen
A very old piece, dated to the 16th century and referred to in Charles Dickens 'A Christmas Carol'. Gareth recreates the vocal melody perfectly and becomes a terrific hum along piece. Bass guitar rounds out the arrangement featuring multiple guitars: acoustic, nylon string and electric creating a lush sonic tapestry.
About Gareth Koch
Gareth Koch is an ARIA Award winning recording artist, guitar soloist, composer & songwriter. He has recorded a diverse repertory across multiple albums spanning works for classical guitar, flamenco, original compositions, arrangements, medieval projects & song writing.
Gareth is involved with many cross genre projects. Over recent years he has released two collaborative albums with ARIA Hall of Fame inductee Steve Kilbey (The Church).
All DSP's and CD's from official store below
Stream here
Daxton 'On The Eve Of Christmas'
There is a good chance in any Christmas album you will hear the well known traditional songs about mistletoe, stockings and large jolly gentlemen in red suits. Many artists have been there but not all write their own songs. Daxton Monaghan has just released his own unique jazz style Xmas album for 2023.
After deciding last Christmas that there wasn't an album of Christmas songs that suited him, Daxton has spent the past year slowly crafting a tasty array of melodic songs for his own special Christmas album.  Entitled 'On The Eve Of Christmas', the nine tracks include some well-known and Daxton family favourites: White Christmas, Little Drummer Boy and of course, Jingle Bells. The rest of the album is made up of Daxton's own songs. These compositions have been inspired by Daxton's family Christmas gatherings. Bouncy rhythms, heart warming lyrics, sing along harmonies, strings, brass and Daxton's familiar vocals all feature.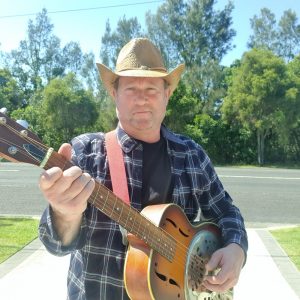 Song Descriptions
Let The Carols Sing
A classic sing along Xmas tune from bluesman Daxton. Some fine holiday vibes from the sax, beach boys style 'ooh aah' backing vocals and keys.
Little Drummer Boy
This timeless tune gets fine reworking by Daxton. Programmed drums and keys give the song a modern edge with Luke Gallen's sax the icing on the cake.
About Daxton
Daxton has appeared at major festivals including the Sydney Blues & Roots and Tamworth Country Music Festival where he supported artists such as Kasey Chambers and Beccy Cole. He also has had one of his tracks 'Moody Liz' featured in the popular American TV series Doll House.
Based on the Central Coast, Daxton is best described as a blues/rock artist with a twist of pop and rock.  He plays slide guitar rock/blues songs with a fresh and innovative sound. His last album, 'Electric Satellite' was released in 2022 and featured his signature heavy and rustic blues rock sound.
Stream here