"Grander Things release new EP Supermoon"
Following on from the release of their first ep MASH in 2020 and unable to play live with the sporadic Sydney shutdowns for the better part of the year, Grander Things went back into their burrow and got busy.
From a riff here or there, the lads played around with some ideas in the rehearsal room and started sending recordings for vocalist, Liz Clear to find the ones that inspired the lyrics and melodies to fall onto the page. After some months of blending music and lyrics, Grander Things had five tracks to put down.
Recorded at Damien Gerard Studios on the Central Coast, you can tell Grander Things love wearing their pop-rock hearts firmly on their sleeves. This ep has gentle moments of angst and vulnerability but then surprises you by colliding into epic rock. Keys were added post recording by Gino Campagnaro to the opening track You Said, but the band have stayed true to their roots with guitars that soar.
Liz  Clear / Brent Williams / Bruce Thomas / Rhys Lewis-Smith
Supermoon is OUT NOW – September 24th via MGM
All DSP's
Watch Video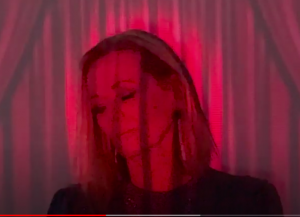 Streaming:

Connect with Grander Things: