"Margaret Anne and The Rock It Man Release New Singles White Haze and Cabin Boy"
Adventurous and a passionate singer songwriter, Margaret Anne continually touches her listeners with her heartfelt singing and dynamic stage presence. She was blessed to belong to a musical family so piano and song became a big part of her life. After University, she worked and travelled for over a decade, visiting almost 60 countries around the globe. In Austria she ski toured, America she ran a Karaoke Bar. During summer, Margaret Anne could be found on rivers as a rafting guide, on bicycle in Europe, trucks in Tibet, on foot in Nepal or dugout canoe in the Amazon. Returning home she has enjoyed singing in various duos and her band Firefly, and currently has also found passion in song writing, sharing her touching and empowering stories with listeners.
She has written original songs including 'Don't look back', co-written with Shane Nicholson; 'The Ones you Love' with Luke O'Shea; and 'Cassidy's Blues' with Kelly Brouhaha. She has also produced music video clips to accompany her songs which 'Scenestr' have been "stoked" to premiere, and been interviewed by 'What's My Scene' and numerous Radio stations.
White Haze is the most recent release, a custom song for US Ski Hall of Fame Extreme Skier, Dan Egan. The song accompanies his new book release '30 years in a White Haze' and will become the title track for the movie. Margaret Anne is currently working in collaboration with producer Doug Weaver (Aka the Rock It Man) on their debut Album 'Soul Laid Bare' which will be launched this year. Doug is a talented multi instrumentalist, producer and screenwriter, producing and writing music for over 200 episodes of the American TV show The MythBusters and also many national programs. So far they have released singles 'Soul Laid Bare', 'Don't Look Back', 'My Mumma' and now 'White Haze' and 'Cabin Boy'. Please check out.
SONGS
White Haze is a custom song written and produced for US Ski Hall of Fame, MC and Extreme Skier, Dan Egan. The song accompanies Dan's Biography 'Thirty Years in a White Haze', both of which are an exciting and emotional tale of trials, success, and loss as 30 years of haze dissipates to clarity. The song will become the Title track of the 'Thirty years in a white haze' movie.
Cabin Boy – Written in a cabin high in the snowy French Alps exactly a year after separation, this song is a hopeful love letter to a future partner who can care for me. It conjures up daydreams of an inspiring future, a story of some of the things I enjoy and how I want to move on.
Download or stream the single Out NOW via MGM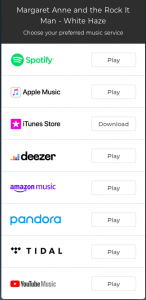 Connect with Margaret Anne:
https://linktr.ee/margaretannesmusic