"Adam Jones Releases Third Album 'The Dark Side Of The Earth'"
Melbourne folk-rock, alt-country and blues singer/songwriter/musician Adam Jones releases his third album The Dark Side Of The Earth on 27 September 2019.
Adam released an album of 12 diverse songs in 2017 called 'Little Death', and then an acoustic version of that album a year later. His catchy and interesting songs traverse many styles such as folk-rock, blues, alt-country and Australiana.
In November 2018 Adam started recording some new material at a local studio in Flowerdale, Victoria and those sessions finally wrapped up at the end of August. Two early singles from these sessions – 'Cupid' and 'Shining Car' – were well-received by radio, social media and local fans.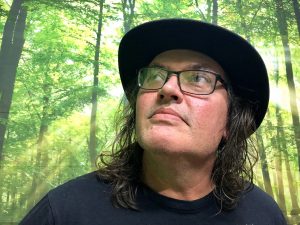 Adam explains his inspiration for the album title. "I wrote a song called The Dark Side of The Earth, protesting about, and expressing my sadness, with regard to how cruel humans can be. Later when it came to planning the album, I thought that it would make a great album title, especially as my favourite album of all time is Pink Floyd's The Dark Side of The Moon! All songs on the album relate somehow to what I call 'the dark side of humanity!"
Folk-rock album opener No Insurance examines risk in personal relationships, Knots in Our Hair is musically a nod to country artist John Prine whilst lyrically reflecting on the love, freedom and happiness that a relationship can provide.
The title track acts as a socio-political protest song, which Jones hopes will encourage listeners to "get up and make a real difference."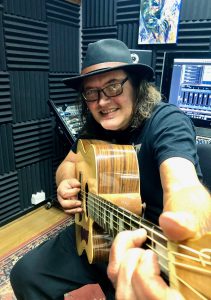 Adam has been a serious music fan since he was very young. "My older brother left home when I was 10 and left behind his vinyl collection, my favourites including The Beatles, Neil Young and Led Zeppelin. I remember the first CD I bought was Dire Straits Brothers In Arms when CDs had only just become available in Australia.  I loved the rock, blues and sweet melodies of Dire Straits music. Other early influences were some of the classics of 60's and 70's rock and folk, like Bob Dylan, Supertramp, Fleetwood Mac, Pink Floyd and Deep Purple. More recent music that inspires Adam are Manchester Orchestra and Kevin Devine "for their creativity and musicality."
Although music has been a huge part of his life since then, it's only in the last couple of years that he's put some serious energy into his music. "I've been singing, writing songs, playing guitar, a bit of keyboard and percussion since I was a child. I decided to become a serious recording and performing artist late in life after a long-term relationship broke down in early 2017."
Adam is an extremely prolific songwriter. "I write a lot, up to 150 songs per year – complete as far as lyrics and basic guitar parts go," he explains. "I usually write the lyrics first and then straight away put some music to them and then finish the song and decide on the structure, rhythm, tempo, etc. Having time alone to sit and focus on my thoughts, experiences and feelings usually leads to me being creative. Sometimes I plan to write a particular song, others are very spontaneous. I try and change up what I write about a lot so that there is plenty of variety in my songs."
Adam Jones – The Dark Side Of The Earth is out September 20 through Foghorn Records / MGM Distribution. 
Download or stream: 
Connect with Adam Jones: