"Margaret Anne and the Rock It Man release their debut album Soul Laid Bare"
The debut album 'Soul Laid Bare' is released today following a series of singles, sold out launch and various radio spots including Todays Country.
The album  includes the duet 'The Ones You Love', co-written and sung with 13 times Golden Guitar winner Luke O'Shea, the custom song 'White Haze' and those written with Shane Nicholson, Gretta Ziller and Allison Forbes. It is an exciting blend of Americana, sweeping through sounds from Country, Roots and Blues to Grooving Funk and Rock.
Recording and production were performed at Noisy Trout Productions in Sydney, Australia, with the genius, multi-instrumentalist and producer Doug Weaver (aka The Rock It Man). Reviews of already released songs which appear on the album confirm Margaret's influences coming from Neil Young, Bob Dylan and Patti Smith combined with the production styles of Fleetwood Mac and ELO – lush, loaded with diversity and consistent high level of musicianship.
Having always had a natural affinity for music, Margaret Anne started playing classical piano as a child before traveling to the far reaches of Tibet and Asia, South and North America, Africa, and Europe.
Drawing from her vast life experience, Margaret Anne has honed her talent as singer/songwriter over the years. She later teamed up with the multi-instrumentalist, producer and Mythbusters screenwriter Doug Weaver, to write and produce the album 'Soul Laid Bare'.
Although they receive creative inspiration from Country, Roots and Blues, Margaret Anne and the Rock It Man combine a variety of compositional elements to form their unique sound.  To date there are five singles in their online discography.  Some of their most popular tracks include the likes of 'White Haze' a custom track written for USA ski hall of fame Extreme Skier Dan Egan, 'Don't Look Back', co-written with Shane Nicholson, 'Soul Laid Bare' and 'Cabin Boy'.  With a growing number of followers and listeners, there is no denying the fact that Margaret Anne is developing a dedicated following of loyal fans.
Sold out album launch at Beaches Thirroul: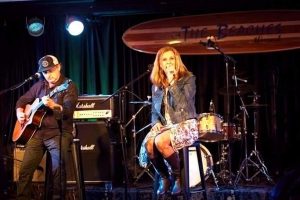 Download or stream the album Out NOW July 2nd via MGM: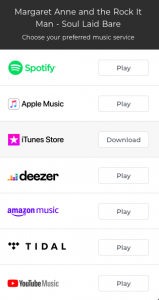 Connect with Margaret Anne:
https://linktr.ee/margaretannesmusic