"Steve Kilbey – New Solo Album – Eleven Women"
STEVE KILBEY PRESENTS HIS FIRST SOLO ALBUM FOR 2020 – ELEVEN WOMEN
Catch the new LIVE SHOW – click image for tix.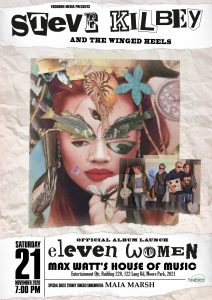 Checkout The Latest Review
We've become used to seeing many of our favourite artists and acts taking advantage of their enforced isolation to complete albums or other musical projects that might normally have been put aside to fulfil touring obligations, but Steve Kilbey was already well into perhaps his most prolific period to date beforeCOVID overwhelmed us. This year already there have two albums in collaboration with Gareth Koch, another with Kate Ceberano and now comes a solo album, Eleven Women. All the collaborations in which Kilbey has been involved over the past couple of decades have certainly helped him push his muse beyond the expected pop/rock references points, but at the end of the day he's still the archetypal pop sponge; his love of '60s psychedelia and artists like The Beatles and Bowie with a dash of The Small Faces remains paramount, the more exotic elements absorbed providing quirky flourishes and whimsical embellishments – which makes for a very accessible and enjoyable classic record. The references, musical and literary, are replete and once in a while they quite cheeky – Birdeeneven sees Kilbey toss in a little reference to Abba's 'Money Money Money'. While the title suggests this collection presents Kilbey's musings on a variety of women, historical, literary and some perhaps even actual, he's happy to toss in something more oblique – 'Lillian in Cerulean Blue' for instance references a brand of metallic paint, while the aforementioned 'Birdeen' seems to be about particularly greedy lorikeet. So Mary Shelley is name-checked in 'Poppy Byron', though of course Kilbey's Mary "was watchin' the telly/on SBS it was in Mandarin". Elsewhere he advises his listeners not to cross the "bewitching" 'Doris McAllister'. Kilbey's lyrics have never been straightforward of course. The fun has always been to test his listeners, to tease them with possible meanings – and so too with Eleven Women. Professionally enigmatic? Perhaps – and why not?
MICHAEL SMITH
NEW INTERVIEW ON THE EVE OF RELEASE WITH ARUN FROM BACKSEAT MAFIA
Meet: We chat with Steve Kilbey from The Church about celebrating 40 years, acting 'European', the fruits of isolation and we review his new solo album
Steve Kilbey has created a fine new album for 2020. His first solo release for an astoundingly creative year reveals a dazzling array of songs brimming with ideas, personality & effervescence. The collection is at once whimsical yet personal, and in a masterful sleight of hand Kilbey's Eleven Women are not quite as one might expect.
The album leads us through a shimmering whirlwind of encounters. After the disarming love song Baby Poewe are plunged headlong into the dark world of Doris McAllister, an evil witch who takes us 'by the bells'. We are regaled by the Celtic wistfulness of Josephineas she forbearingly awaits her 'wine & roses' while Birdeen, a greedy lorikeet with a sweet tooth, beguiles us with infectious bounce & colour.
Eleven Womenis full of melodic invention & lyrical surprises. Singling out tracks for special mention is frankly impossible since this album consists entirely of highlights. Amongst these bijous however the timelessly beautiful Think of Youshines brightly. This song has the unmistakeable stamp of eternity & evokes a sense of having existed since music began.
From the album's opening salvo it is clear we are in the most capable of hands. Steve Kilbey is a veteran song writer at the very height of his creative powers.
"Steve Kllbey was born in England a long time ago and arrived in Australia as a ten pound pom with his parents in 1957. in 1980 he formed The Church who have gone on to have many hit singles including Unguarded Moment,  Almost with You and international best seller Under The Milky Way. Their 1988 album Starfish sold over one million copies in America alone. Kilbey has released many solo albums and collaborations making him one of the most prolific songwriters in the world. He acts , paints , writes books and juggles dangerous objects . He lives in Coogee Beach NSW and is hoping to one day own a Daschund ." 
ELEVEN WOMEN SEPTEMBER 4 via FOGHORN/MGM.
Connect with Steve Kilbey: