"Adam Blacksmith – I Hope i'm Wrong New Single"
A great new single from Adam his first from the forthcoming album on the soundslikecafe playlist
A casual loan of a classic Fender Jaguar Guitar inspires this heartfelt new single from Sydney Songman Adam Blacksmith
Adam Blacksmith is a thought provoking songwriter from Sydney, Australia.  He is a talented wordsmith and a storyteller.  He draws his influences from far and wide, from his contemporaries Augie March and the Drones to his workplace, Long Bay Gaol in Sydney where he works as a Special Education teacher.  Blacksmith's music doesn't fall neatly into any conventional category although musically, he gives folk and blues an indie make-over resulting in a refreshing and unique sound.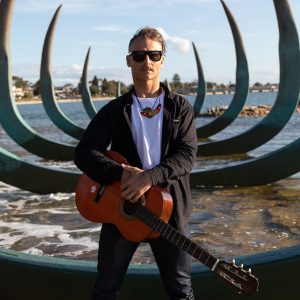 The story behind 'I Hope I'm wrong'
"Just prior to leaving, a friend of mine asked me to help him sell some of his guitars while he was away and gave me a white Fender Jaguar as a show of thanks. I thought this was a little over the top so I accepted and vowed to store them for him for when he returned. I have not heard from him for a few years now and I am extremely worried. (I hope I'm wrong)
This song reflects my emotions oscillating between fear, anger, sorrow and hope in relation my friend."
Connect with Adam