"Jack Nolan releases title track single Gabriel from forthcoming album"
Jut added to our playlist Gabriel is the title track single from Sydney singer songwriter Jack Nolan's upcoming 2021 Americana album, Gabriel. 
We were on the road, from heaving LA freeways and into Death Valley, a most peculiar place, an unknown place. When your mind is elsewhere, irretrievable, like mine at the time, the valley's a parallel universe, perdition. We were in the midst of a three-day dream. I fell upon a crossroad, landing eighty-six metres below sea level in the Californian Desert at a place, Badwater Basin, where an androgynous guardian appears, Gabriel, kind, gentle yet hard-lived and furrowed, who gave and left me with hope that all would be well.
"The original version, the demo, had that magic, which I thought about releasing it as it was, having gone into the old Damien Gerrard studio in Sydney, to bang down some ideas. I played everything, guitars, shakers, lead, the vocal and I also sang the harmonies. It worked, but my belief in the song told me to give it the environment it deserved. Arriving in Nashville I briefed producer Justin Weaver, who went about recreating the demo perfectly from the ground up. I still handled the guitars, the lead vocal and all harmonies but was smart enough to hand off the rest to the boys!.'' Listen for Jimmy Paxson on the trash can drum, swinging around the harmonies and Justin Weavers banjo, that is the optimism and the final outcome.
Jack Nolan is a singer songwriter based in Sydney, Australia, who's been performing and releasing music and albums since the mid 90's. Along with a five-album solo catalogue Jack also fronted The Kelly Gang, with Rick Grossman, bassist for The Divinyls and Hoodoo Gurus, along with Midnight Oil drummer Rob Hirst, and guitar player Martin Rotsey. Their 2004 album Looking for the Sun was critically adored along with their energetic live shows of the time.
Within Nolan's music, mysterious and shimmering chords unite his sound with that of the Americana genre, once quaintly described as 'Darlinghurst Country' uniting elements of folk, country, rock 'n' roll and ambient atmospheres fusing Nolan's passion for intensely charged electric guitar and finger-picked acoustic guitar.
Gabriel
The title track single from forthcoming album GABRIEL
Release dates
September 8 – Gabriel – Single – Digital
October 8 – Gabriel LP (Vinyl, CD, Digital)
Credits:
Written by Jack Nolan
Recorded at 'Welcome to 1979' in Nashville TN 2020
Produced by Justin Weaver
Engineered by Chris Mara
Mixed by Chris Mara & Justin Weaver
Mastered by Ryan Smith, Sterling Sound Nashville TN
Jack Nolan – Vocals & guitars
Justin Weaver – Electric Guitars, slide, banjo & backing vocals
Jimmy Paxson – Drums
Chris Autry – Bass
Gabriel is OUT NOW Quay Records/MGM. 
Stream or Download: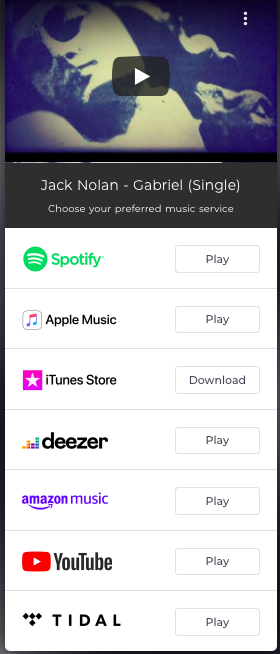 Scents Video Premiere: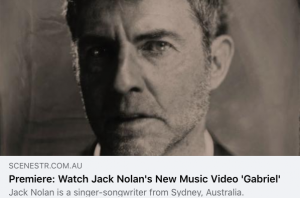 Connect with Jack Nolan: