"Slide Milligan – Debut Single Scores Number 1 spot"
The new single from Slide Milligan has scored the number 1 spot on our soundslikecafe playlist this week
A perfect summer track from modern Americana/Bluesman Slide Milligan.  The up-tempo "Australiana Classic" song rolls along with infectious melody and nostalgic production.  Slide lives up to his name with guitars and his daughter stars on smooth and hooky backing vocals.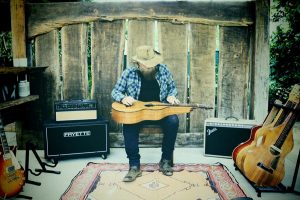 Slide Milligan's musical journey has been half a life in the making but sounds as exciting as the latest Australian Rock & Roll export being paraded around the world.  After years and years of playing in bands through the late 80's/90s, Dave "Slide" Milligan gave up his musical dreams to pursue a trade in rural fencing and woodworking.  To unwind after working all day in the paddocks of rural Australia and his sawmill Dave built himself a lap steel guitar.
Over the years he started to write a collection of exceptional songs that weren't your usual "roots" music fare, mixing his hard rock background and his ability to tap into that authentic Australian sound.  Despair and dread mixed with sunshine and water he caught the ear of local producers and with some help with production from Indie impresario Andy Clockwise (He was working on a fence on Clockwise' farm when he was back from LA and the two lit a bonfire in the paddock) "Slide" has produced a psychedelic slide guitar masterpiece called "Blood Red River".  A pastiche of outlaw country, psychedelic post-punk & a different approach to the slide guitar.  This music sounds familiar yet fresh in the current musical landscape. At the ripe old age of 52, this new artist is sure to make a splash in the country-indie-rock crossover here and abroad.  Blood Red River will be released later this year.
Feelin' Fine is Out Now on Foghorn/MGM

Connect with Slide