"New June Sounds Like Cafe Playlist"
Our New June Sounds Like Cafe Playlist is up for your listening pleasure!
Spotify Link: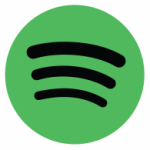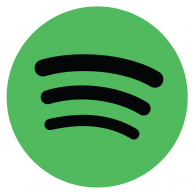 Check out our new line up of tunes in curated tracklist order: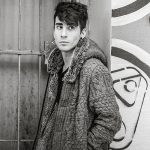 Nick de la Hoyde, Mirror Mirror (from the single)
Mirror, Mirror reflects Nick's own insecurities, giving a voice to those who feel they don't have the power to speak up for themselves.
Nick's prior releases received immediate adds to Australia's biggest radio networks such as Southern Cross Austereo, Nova, KIIS and more as well as stateside airplay at numerous Top 40 stations nationally charting several tracks in the top 35 on the Billboard Top 40 Monitor Chart. Nick's current single, "Hold Me Close" is also building in the UK and has been added in the Best New Pop category on BBC Radio 1, receiving airplay at KISS, Gaydio and various other regional stations. "Mirror Mirror" will launch to radio starting with an Australian Pop and specialty radio plan with stateside and UK campaigns layering into the timeline shortly thereafter.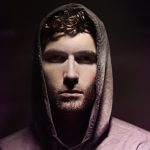 Chris S, High (from the single)
'High' is a love song the first release from Australian artist Chris S. It's about the first moments of new love.
After spending many years as the lead singer in an a cappella group and finishing his contemporary music course at the Institute Of Music, things started to pick up by doing various performances and scoring a first runner-up in the Kick Up The Dust band competition causing a mild controversy as his vocal duo at the time was not technically considered a band, but the judges stated that they were just too damn good not to be awarded a place.
 Teaming up with award-winning songwriters and producers, Chris has been working on new material and is excited to share with you the next chapter of his music. With "High" being his first release, Chris welcomes you all to join him on his musical journey."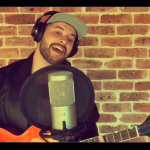 Joel Leffler, Speed Of Light (from the EP 'Strip me Bare')
Following on from his successful EP from 2016 and subsequent instrumental releases and tour. Joel Lefler is back for 2018 with a stunning new EP produced by longtime collaborator and aria winner Peter Holz (Pekin Duk, Gang of Youths)
Did you choose music or did it choose you?
I recently found out that my direct blood line back to the 17thcentury had very strong links to music. They were brought over from Sweden to England to be singers in the Kings Court. In the 18thcentury, there were 5 generations of singers and instrumentalists all of whom performed at one time or another in Westminster Abbey & the London Opera. I think music chose me but I made the choice to embrace it


Lissa Jayne, Batface Girl (from the EP)
Melbourne based singer-songwriter Lissa Jayne has held a deep-seated love affair with music all her life. Her debut EP containing six beguiling songs with enchanting titles such as Batface Girl, Towns that Make you Bizarre, Damn your Name and That Girl is Gone. "Lisa Jayne sat demurely in her sweet little Lolita dress and bow, with her pretty blonde acoustic and then served us up a love song of her own, laced with metaphor and darkness!" Reviewer.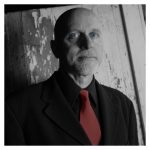 Sensitive Chaos, Missing Vjeo (from the album 'Walking a Beautiful World')
Sensitive Chaos is the solo project of producer Jim Combs, with collaborators from around the world.
A core component of Sensitive Chaos compositions is improv, and songs on the albums have their genesis in live performances and recordings. This unique approach has endeared audiences and radio programmers around the world, with airplay across the U.S., Europe, and the U.K., including many "Best Of" nods over the years. Walking a Beautiful World, their 9th album, is an eclectic indie-electro-rock-world-jazz-pop travelogue of Combs' journey around the world and an ode to the common threads that bind people across different lives and locations.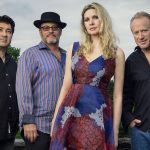 Flow, Free Ascent (from the album 'Flow')
Fiona Joy Hawkins – aussie Piano Player and vocalist of the group reveals how it came about
"We had all worked together for many years playing on each other's albums and doing songs together, so it seemed logical to write and record as a group.  It was actually Lawrence Blatt's idea. He called Jeff Oster and I and we instantly connected with the idea.  Lawrence wanted Will Ackerman to produce the album.  In the past, Will has played guitar on all our albums and in his own right is one hell of an amazing writer and player, so we had a head to head discussion and asked Will to join the group as the W in FLOW.  It stands for Fiona, Lawrence, Oster Will. It was an awesome move because the combination works so well, not just the instruments, but how we write as a team.  Add Tom Eaton (producer, engineer) and Bob's your uncle !  "


BiG MERiNO, Black Cockatoos (from the album 'Suburban Wildlife')
Sydney-based Alt-Country/ Rock/ Soul band Big Merino just released their newest album Suburban Wildlife.
With influences like: The Rolling Stones, Jackson Browne and Glen Hansard, co-writers Davis and Craig bring their songs to life with a full tone.The album starts up with a deeply sensitive tune called "Black Cockatoos" that is soaring high with free-floating energy. –Skope Mag – USA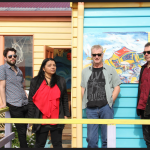 The Sheyana Band, Soul Sister (from the album 'Big Love')
The Sheyana Band are master musicians with creating their debut album "Big Love" with toe-tapping head bopping classic Rock grooves paired with beautiful Blues lyrical storytelling. They recently performed at Forth Valley Blues Fest and have supported the likes of Hoodoo Gurus, Neil Finn, Meg Mac, Renee Geyer, Diesel, The Angels, Ian Moss and Bill Chambers.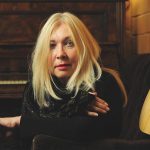 Lily Duval, Down to the Lake (from the single)
Down to the Lake was written as a poem first and then Lily added the music. Lily: 'I was looking for more of a minor guitar sound and a feel that was a bit ethereal. That's where Peter Holz came in and put that vibe into the song; he plays this beautiful understated feel.' Lily describes the song as a little mini film clip – the story of one human reaching out to another.
Previously Lily has digitally released a number of acoustic blues originals to a warm response on Community Radio and online.


Rachel LaFond, Luminous (From the album 'Encounters of the Beautiful Kind')
Rachel LaFond's music explores universal human experiences: feelings of loneliness, joy, pleasure, pain and the evolution we undergo as an existing relationship  fades while new connections spring to life.
Tell us a little about what a crowd can expect at a live show? "My music is always inspired by something, so there is always a story or an experience to share. I tell those stories at my live shows, I think it makes the music even more meaningful in the moment. I pour everything I am into performing my music, so watching me play can be a bit intense and is certainly an engaging experience."
Favourite artists of all time? "There are so many! Ingrid Michaelson, Rachmaninov, Guns 'n' Roses, Jason Mraz. Really, I could go on and on, it's so hard to pick a favourite!"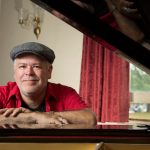 Loren Evarts, Home Again – (from the album 'Home Again')
Loren Everts newest album Home Again is the 6th original album, of this amazing contemporary pianist. It revisits several pieces previously recorded by Loren in the 1980's, and eight new ones.
Fave film? Fave Book? Fave place? Fave animal or pet?."I Loved "The Lord of the Rings" movies. (It was great to visit the filming sites when I was recently in NZ.) I have always loved England, but very much enjoyed an extended visit to Australia several years ago. (Spent 6 weeks touring the country.) Definitely a cat person, but I have 2 border collies."
Fave food or drink and is there a story associated with that"Pizza! No story there. I'm lucky to live near the pizza capital of the world- New haven, CT. (If you are ever there, try Sally's on Wooster St.) And I like a good non-IPA beer to go with that."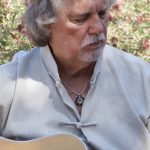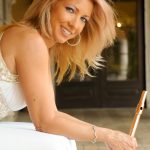 Tom Moore & Sherry Finzer, Sacred Ground (from the album 'Let there be Light')
Let There Be Light is the second collaborative album from multi-instrumentalist Tom Moore and award-winning flutist, Sherry Finzer. This album's music is an expression of a journey, it is about movement not only in our outer life, but equally on the inner plane. The universe is made up of light, which then becomes vibrations and sound. The purpose of this album is to bring 'light' to the listener is as many forms as possible.